If you were a fan of Nickelodeon's animated series "Avatar: The Last Airbender" like I was, then I have some good news. The spin-off that has been in production is due to air, on said channel, on 14 April 2012. "Avatar: The Legend of Korra" will run for two season with a total of 26 episodes.
Find more on the plot and the trailer to the show after the jump.
Created by the same team who brought us the first Avatar, Michael Dante DiMartino and Bryan Konietzko, it takes up seventy years after the end of the war in the original series. At this time Aang and Zuko brought people from the four nations together and founded the United Republic, creating Republic City, a large "metropolis powered by steampunk-type technology" such as cars and motorcycles.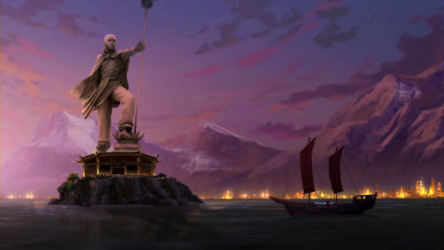 Aang and Katara had three children, the youngest of which was Tenzin, an airbender. After Aang's death, the next Avatar, Korra, was born in the Southern Water Tribe.
However all is not well in the newly formed republic. Anti-benders called "Equalists", who oppose the arts of bending, utilize techniques such as chi blocking to further their goals of revolution led by Amon. Korra must fight rampant crime and the anti-bender revolt, assisted by two brothers, Mako, a firebender, and Bolin, an earthbender. She is also joined by her animal guide, Naga, and the metalbending police force of Republic City, who are led by Toph's daughter.
Besides the epic storyline and animation of the first series, it was the voice acting that endeared us to the characters. The late, great Mako as "Iroh" and Dante Basco as "Prince Zuko". Here too the cast of voice actors is equally impressive which has Daniel Dae Kim (Lost) and Lance Henriksen (Aliens, Terminator) in the lineup.
The first 2 full episodes are already available online, however I could not find South African hosts of them. Reviews so far have been favourable and hopefully it will be picked up further than the two seasons already slated. However enjoy the teaser for the new series and start honing your bending powers.
http://youtu.be/J3h6aZoBYpI
[via Youtube | Avatar wikia]