A photomicrograph (or micrograph, or microphotograph) is an image taken through a microscope, and Nikon have been sponsoring the International Small World Competition since 1974, as a means to recognize the efforts of those involved with photography through the light microscope. The competition is open to anyone with an interest in photography through the microscope, professionals and hobbyists alike.
Here are some shots from the 2008 competition.
1st Place – Michael Stringer, Pleurosigma (marine diatoms)

This image was one of a series Mr. Stringer created to illustrate a talk to a camera club on "Photography through the microscope." His objective was to display diatoms in a modern way using super contrast and careful application of color. Rather than showing all the details, or warts and wrinkles as Mr. Stringer likes to call them, he dressed up the diatoms by manipulating the image and creating this beautiful photomicrograph.
2nd Place – Paul Marshall,  Carbon nanotubes
Marshall's image was taken as part of the study of an atypical Carbon Nanotube growth run. Carbon Nanotubes are the latest material of interest and show great promise for the next generation of devices in the field of optical, medical and electronic research. He chose to submit this image to convey the hidden microscopic beauty of science and technology.

The image was created using a Nikon CoolPix E995 and a Nikon SMZ-10 Stereo Microscope. Marshall used this image as the cover of a Christmas card to his students.
3rd Place – Albert Tousson, Convallaria majalis (Lily of the Valley)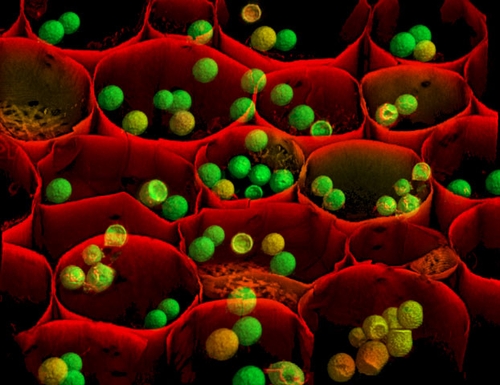 Tousson has been involved in photomicrography for 25 years. As a cell biologist, Tousson works to understand the complex processes that allow cells to metabolize and perpetuate.

Tousson chose to submit this image showing the plant's tissue organization because the red cell walls and green and yellow starch granules were striking. This image was acquired using laser confocal microscopy with 3D projection as part of a test of a confocal imaging system for optical sectioning and 3D rendering. Tousson hoped the result of the test would be of a quality for submission to the Nikon Small World Competition.
See more spectacular photomicrographs at Nikon Small World.