As part of a recent American Iconomics exhibition held at The Shooting Gallery in San Francisco, artist James Charles showed off his series of pop culture American dollar bills. What started as simple doodles for his amusement quickly grew into a bigger thing and Charles found himself not only altering presidents' faces but also modifying the fonts and adding humourous scripts to actual American currency. His pop culture dollar bills include iconic faces from movies to TV to politics. Have a look at some of his creations below.
Click the images to make them bigger.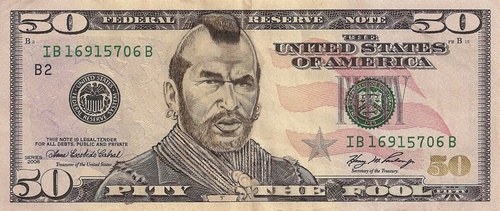 Quite a few of Charles' defaced dollar bills have been sold at USD 600.00 a piece! Have a look at more of the American Iconomics exhibition at The Shooting Gallery.
[via Uproxx]